New Year, New Directors, New Years Resolution: Open Our Store in 2021!
Happy 2020, Co-op Owners and Supporters!
We're psyched for 2020. Why?
Two Awesome New Board Directors Join the Leadership Team!
(With Real Estate Investment & Management Savvy!)
Our New Website Launches This Month!
And 1200+ Owners Step Up to Open Our Locally Sourced,
Community-Owned Grocery Store!
Scroll down for all the details, but first …
A 2021 Grand Opening – Now That's A New Year's Resolution.
We can open our community-owned grocery store NEXT YEAR, but it will take all of us – You, Me, 1,200+ neighbors and friends coming together as a powerful community. As a Village.
Three Steps Will Get Us There Together …
Step 1: Find Our Site – The best way to do this is to join our Board. Your skills, insights, and energy at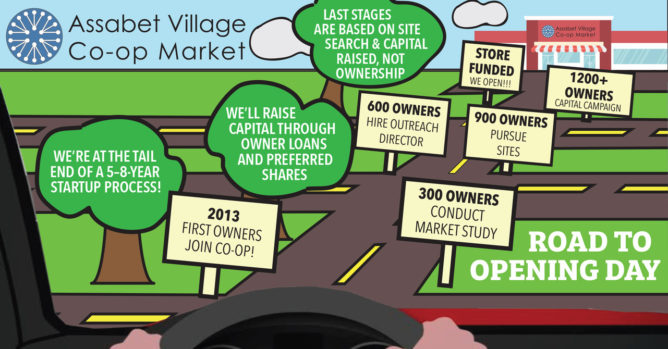 the helm will help locate our store and open our doors. E-mail Siobain@assabetvillage.coop to learn more.
Step 2: Join the Co-op, Recruit Your Friends – If you haven't joined, click here to join today! We need at least 1200 Owners to launch our Capital Campaign, and 200 more to blow it out of the water and open in 2021.
Owners, we know nudging friends is weird.  We've made it easy …
Step 3: Volunteer, Feel Good, Repeat – More than 70 Owners have stepped up for events, committees, and the Capital Campaign Team. Make 2021 the year – e-mail Lorne@assabetvillage.coop to become a proud Co-op Volunteer!
---
Now, Let's Meet Our New Board Directors …
This January we welcome real estate investor Rob Olney
(Owner #326) to the Board! Rob is an Acton resident who joined the our leadership team to help locate, negotiate, secure and build-out our store. He has been involved with the Co-op for five years and originally worked on the marketing team. He was attracted to the Co-op as a means of reducing our food's carbon footprint (and with the hope of bringing his favorite chocolate, Frey chocolate, to a local store). Welcome, Rob!
We're also thrilled to welcome Director Karim Kovacevic (Owner #1,102), a senior software manager from Stow
whose love of local food began on the Croatian coast, where he spent his childhood summers eating vegetables from his great grandfather's farm and learning his grandmother's "dinner is whatever fish you catch" ethos. Thanks for stepping up and joining our leadership team, Rob!