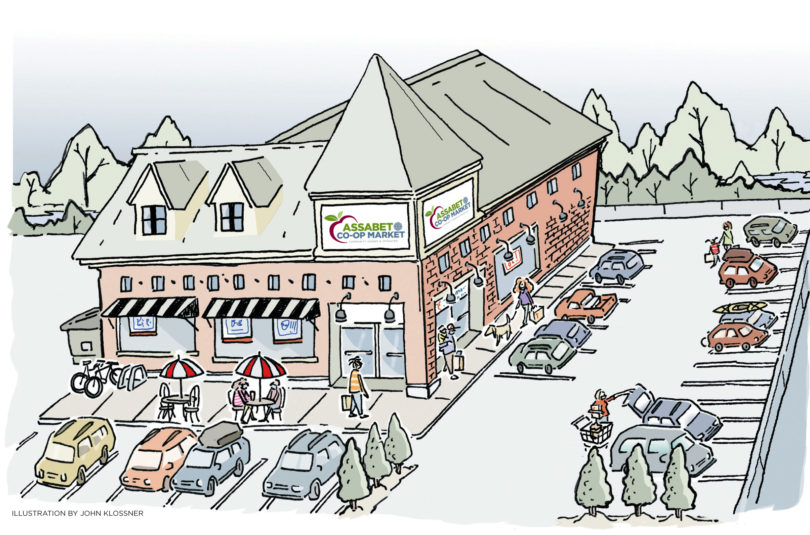 10 Potential Co-op Sites Are In the Works
Here's the Latest on Our Search for Our Grocery Store's Future Home  …
We have 5 sites we are actively considering making offers on and another 5 backup sites. None of the sites is perfect, but each active target comes close to our ideal specifications (see below).
On the 5 active target sites, we are very busy evaluating the feasibility before making an offer. This is important in deciding what price and terms will be part of our offer.
All of the targets are 1.5 miles or less from Maynard town center, and most are in Maynard. We will not sign on a location outside Maynard without a discussion with Owners, but due diligence requires that we have options at the ready.
As a reminder, our ideal specification is a 10,000 SF store, with 46 parking spaces on ~ 3/4 of an acre and at least 700 amps of power. (Note – the Maynard CVS is 13,640 SF with 31 spaces.)
Most shopping centers are "no go" locations as the supermarket anchor prevents competitors.
Most downtown storefronts are "no go" locations since they are not large enough, nor do they have dedicated parking.
We'll send additional updates in the coming weeks. As you know, negotiations are a sensitive process and require strict confidentiality. But with almost 1,600 Owners and nearly $1.5M of our $2M Capital Campaign* goal raised, we're stronger than ever. And we're ready to build our store!
Happy Holidays to All!
*The Spring Capital Campaign will launch in a few months to push us over the finish line, but Owners can invest this winter. To make an interest-paying loan to our Co-op and help "put doors on the store," e-mail Campaign@assabetmarket.coop for your prospectus today!